THIS WEEK AT NAFASI:



CHAPCHAP SILHOUETTE
with WIKIENDI LIVE!
ft. SWAHILI ALLY and JINONG'ITE



Dear Art Lovers,


Ndugu wapenzi wa sanaa,



Greetings! We have an exciting week ahead, please read below for a summary of our upcoming events, and more detailed descriptions for those of you who want to learn more! We hope to see you at Nafasi soon.



Salaams, Juma hili ni la mvuto na lenye mambo mengi, tafadhali soma muhtasari wa matukio yajayo, na maelezo yake zaidi kwa ambao mnahitaji kujua zaidi. Tunatarajia kukuona hivi karibuni hapa Nafasi.



SUMMARY:
24 May, Tuesday: Hangout with Cloud Chatanda, who has recently returned from his residency in Berlin
26 May, Thursday: Twasoma Sanaa reading group at the Bookstop Sanaa library at Nafasi
27 May, Friday: See HYPERPOTAMUS, a Spanish Vocal Artist, perform live at Makuti at 8pm
28 May, Saturday: Welcome to Nafasi for CHAPCHAP SILHOUETTE, where you will learn about Silhouette Art and help create a large-scale installation for Nafasi's exhibition hall. Children and adults welcome! Also, we will be introducing WIKIENDI LIVE! - a new live music event with a special focus on East African afro-fusion and traditional sounds. This time with Swahili Ally and Jinong'ite!

MUHTASARI:
J'nne 24 Mei: Wsanii Kijiweni na Cloud Chatanda, Ambaye hivi karibuni amerejea kutoka kwenye makazi ya kisanii huko Berlin
Alhamis 26 Mei: Twasoma Sanaa kusoma kwa pamoja ndani ya maktaba ya Bookstop Sanaa hapa Nafasi.
Ijumaa 27 Mei: Jionee msanii wa kuimba "HYPERPOTAMUS" kutoka Ispania akifanya onesho la moja kwa moja pale Makuti sa 2 usiku
J'Mosi 28 Mei: Karibu kwenye CHAPCHAP "VIVULI" SILHOUETTE, Utajifunza kuhusu sanaa ya vivuli na utashiriki kutengeneza sanaa kubwa kwenye ukuta wa ndani ya jumba la maonesho la Nafasi. Wakubwa kwa wadogo nyote mnakaribishwa! Pia patakuwa na utambulisho wa WIKIENDI LIVE! - Tukio jipya la muziki likiwa lenga zaidi Muziki wa Afrika Mashariki. Wakati huu watakaoanza ni Swahili Ally pamoja na Jinong'ite!



SCHOLARSHIP OPPORTUNITY FOR YOUNG ARTISTS: Every Saturday at Nafasi from 10am-1pm there are fine art classes for children aged 3-13. The classes are 25,000 per session, including materials and art instruction by trained teachers. Nafasi is excited to announce we are sponsoring 6 young artists to attend 4 sessions of art classes for free! To enter, please email us at info@nafasiartspace.org telling us the name of your young artist, their age, and why they would like to take art lessons. Please also attach one or two photos of your child's artwork! DEADLINE: 1 JUNE 2016. We look forward to receiving your submissions and we'll announce the recipients of the free art lessons in a few weeks!

FURSA NAFASI ZA KUJIFUNZA KUCHORA KWA WASANII WADOGO: Kila Jumamosi kuanzia sa 4 asubuhi - 7 mchana kuna darasa la kujifunza kuchora kwa watoto wenye umri wa miaka 3 - 13. Gharama ni 25,000/ tshs kwa kipindi kimoja gharama hizo zinajumuisha na vitendea kazi vyote. Nafasi wanayofuraha kuwataarifu kuwa wanawasaidia watoto 6 kuhudhuria vipindi 4 bure. Ili kupata nafasi hii tuma ujumbe kwenda baruapepe ya nafasi: info@nafasiartspace.org tuambie jina la mtoto wako, umri wake, na kwanini wangependa kujifunza sanaa. Pia tuma picha alizowahi kuchora mtoto huyo! MWISHO NI: 1 JUNI 2016. Tunatazamia kupokea maombi yenu na tutatangaza majibu, wiki chache zijazo.




READ MORE ABOUT THE EVENTS:
HANGOUT with Nafasi Artist Cloud Chatanda is Tuesday 24 May at 5pm, and hear about his experiences in Berlin as a resident artist at ZKU with the URBAN NARRATIVES/SIMULIZI MJIJINI project.



Wasanii Kijiweni na Msanii Cloud Chatanda ni Jumanne 24 Mei sa 11 jioni, utasikia uzoefu wake kutoka Berlin alipo shiriki makazi kisanii kwenye kituo cha sanaa cha ZKU kupitia mradi wa SIMULIZI MIJINI






Then, on 26 May, don't miss the Twasoma Sanaa reading group at Bookstop Sanaa. You can email for more info.




On Friday, 27 May, the Spanish Embassy is putting on a free show of Hyperpotamus, a vocal artist who will show his skills in looping and using new technology to create an exciting one-man show.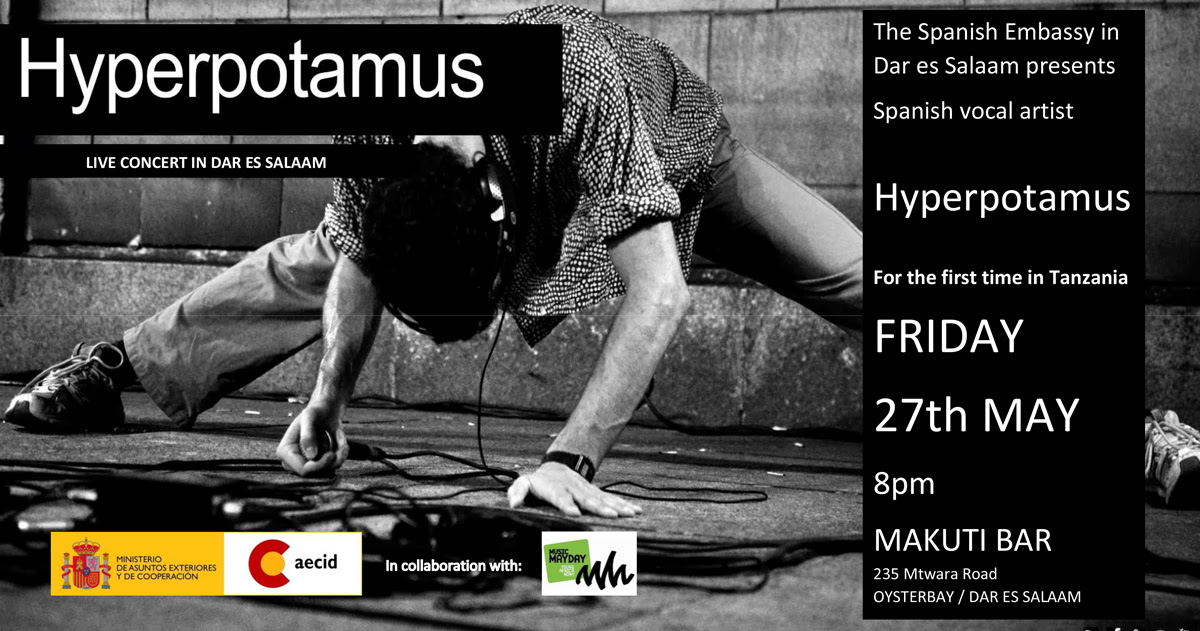 On Saturday, 28 May, don't miss CHAPCHAP SILHOUETTE, where you can help create a spectacular wonderland of Dar es Salaam while learning about the art of silhouette. We will use newspapers from the week to inspire us in our creations, and the result will be large-scale wall installations in Nafasi's great exhibition hall. A few NAFASI artists will help facilitate the activity, and you can learn more about the background of the technique in the Bookstop Sanaa library. The art starts at 3pm!

As Nafasi friends will know, CHAPCHAP always includes a live performance in the evening, after the art activity has wrapped up. That won't change, but we wanted to develop the music programme it its own right, so for that reason we're excited to announce WIKIENDI LIVE!, a music event that will go hand-in-hand with CHAPCHAP to help bring the best East African music to the live stage here in Dar. So on the last Saturday of every month, join us for CHAPCHAP ART followed by WIKIENDI LIVE! concerts.

This coming Saturday, we present Swahili Ally from Zanzibar, who plays a unique blend of Tanzanian music with a West African twist, as he is one of the only East African musicians to play the kora! Opening for Swahili Ally will be Jinong'ite, a band from Ilala, Dar es Salaam that plays traditional-modern fusion that will make you want to dance! "Jinong'ite" means "Sweet Fun" in the Kingoni language. The music starts at 7pm and will go until 9:30!





If you're an artist interested in being programmed for WIKIENDI LIVE!, please email us with links, photos, and biographical information at info@nafasiartspace.org and make sure to put WIKIENDI LIVE! in the subject line.

Kama wewe ni Msanii na ungependa kushiriki kwenye WIKIENDI LIVE!, Tafadhali tutumie baruapepe yenye links au picha za kazi zako pamoja na muhtasari kuhusu usanii wako kwenda kwenye baruapepe ya nafasi: info@nafasiartspace.org, Hakikisha kichwa habari cha baruapepe yako kiwe WIKIENDI LIVE!

Shukrani, Tukutane Nafasi...
Copyright © 2016 Nafasi Art Space, All rights reserved.
You are receiving this email because you signed up for our Nafasi Events mailing list.

Our mailing address is:


Nafasi Art Space

Nafasi Art Space | P.O. Box 31715 |Eyasi Road, Mikocheni B, Dar es Salaam

Dar Es Salaam

Tanzania

Add us to your address book